You are browsing the archive for Board.
Open Knowledge Finland - November 21, 2017 in äänestys, annual meeting, autumn general meeting, Board, Events, Featured, hallitus, Nofications, Official meeting, okfi, syyskokous, visio, vision, vuosikokous
The new board for Open Knowledge Finland is to be elected in the Autumn General Meeting on Dec 13. Will you be a changemaker and on our board!?
There's no need to make open knowledge or open data great again, because it already IS. However, Open Knowledge Finland is calling out to its members and to-be-members, and asking:
Are you willing to help take this association one step further?!
Where are we now – where are we going?
Open Knowledge Finland is turning 5 years old before the end of the year! We've grown fast and become an influential player in the Finnish civil society, especially in the domains of digitalization, information society, data economy and open participatory co-creation.
Right now our budget is over 500 000 eur annually, we have nearly 500 members, we foster the community of over 5000 open data enthusiasts. We've implemented dozens of projects and our events have had visitors from over 30 countries! Most importantly, we have helped make changes in the Finnish society.  
For further details, have a look at the
2016 annual report.
In our current vision for 2020:
We are a
well-known significant player in the Finnish societal discussion on digitalisation and data economy,
bringing forward especially the views of data users, data subjects and advocates of openness – from the grassroots.
OKFI brings together and
foster the community
of open data and open knowledge enthusiasts and stakeholders. We are a
laboratory of openness
, continuously experimenting with new ideas and ways of working.
We
implement open data and open knowledge projects
that have a
significant societal impact
. In addition to innovation, we serve the society by providing
trainings and services
. We work across borders and are an
active participant in international discussion
.
Looking ahead. 
We are in the process of planning 2018 and onwards. We hope you can participate:
Join the 24 hours planning session in Nuuksio on Dec 8-9
Join the

Autumn General Meeting on Dec 13
OKFI board for 2018 – senior expertise and young blood?
Many of the board members have served for 2 or even more terms. Thus many are wanting to step down and give room to others.
It will be great to have a great combination of fresh blood and old experience! The board is on its way to becoming a bit less operative, and a bit more strategic – as it should be.
Why apply for the board?
Being on the board gives you a great position to influence the association and the impact that it makes. You get to meet and work with some of the sharpest minds in Finland and internationally – both at OKFI as well as its partenrs and others stakeholders. Building on YOUR strengths and passions, you will help OKFI grow. While being a board members requires some work and has some responsibilities, it is also a blast!
Do it!
If you are willing to be candidate for chairman, board member or other position of trust (e.g., regional, working group lead), please let us know!
http://okf.fi/candidate-for-2018
Big thanks and hugs to everyone who has served on our board in our first 5 years!!! The post
Calling team players to join our board – let's make Open Knowledge great!
appeared first on
Open Knowledge Finland
.
Open Knowledge Finland - October 14, 2016 in 2016, Board, Featured, projects, Update, Working Groups
This blog post is a slightly revised cross-post of an posting that was  part of the series featuring chapter updates from across the Open Knowledge Network and was written by the team of Open Knowledge Finland.
Summer was a great time in Finland. However, there was no time for extended holidays at Open Knowledge Finland – we had a very busy summer. Here is our update for the Open Knowledge Network, with key news from the last few months.
Open Knowledge Finland has a new board in action since June!
In a bit of old news, one of the most important yeary news  was our annual meeting back in May. OKFFI held its annual meeting on Monday May 30 at the Helsinki office. Nearly 40 people (well over 10% of members) attended face-to-face or online – quite a good number, in fact!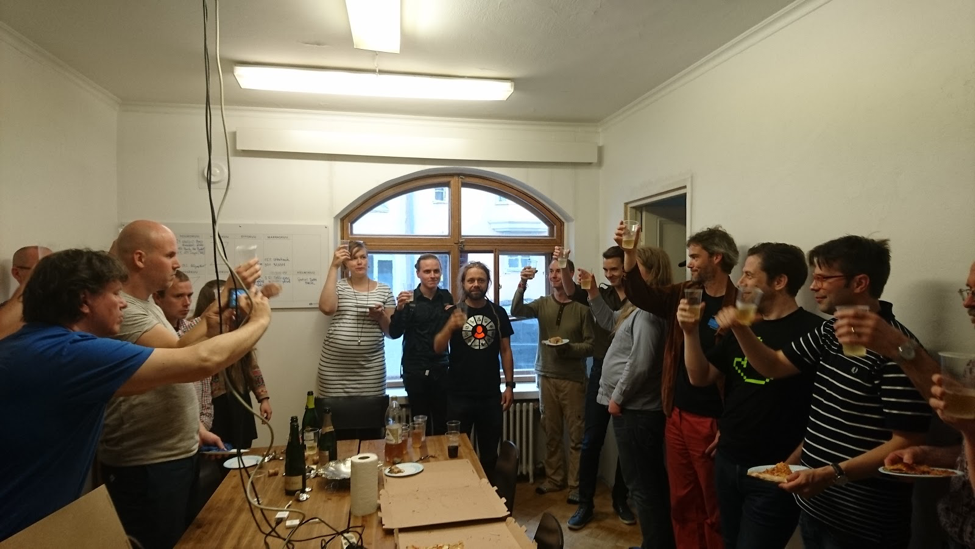 Pic: May 30, 2016 – Annual General Meeting post-celebration
Antti 'Jogi' Poikola was unanimously selected to continue as the chairman. The new board consists of 3 old members (Jogi, as well as Lilli Linkola and Mika Honkanen) and no less than 5 new members – Susanna Ånäs, Liisi Soroush, Raoul Plommer, Mikael Seppälä and Jessica Parland-von Essen. In its first meeting, each board member was assigned a primary and secondary role as follows:
Antti Poikola
– chairman and  web communications
Mika Honkanen
– vice chairman and  2nd treasurer
Lilli Linkola
– secretary and working group contact
Mikael Seppälä
– treasurer and working group contact
Raoul Plommer
– web communications and tools and international relations
Susanna Ånäs
– internal communications and international relations
Liisi Soroush
– collaboration networks and member secretary
Jessica Parland-von Essen
– external communications  and collaboration networks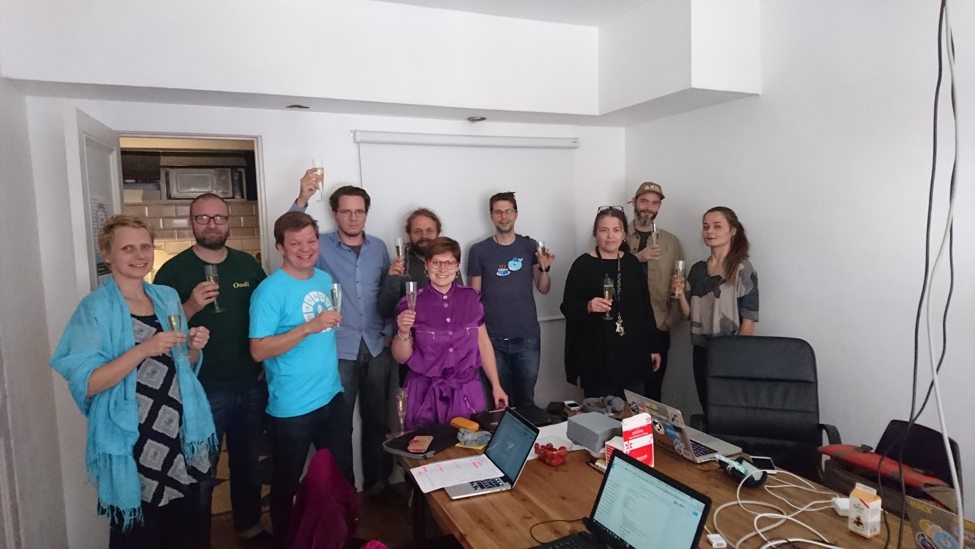 Pic: New board (+ non-board Teemu and Jaakko), having an open board meeting in September.
With the new board, it is nice to see the gender split is at 50-50. It is also a great sign that there are a lot of people who want to apply for the board (13 candidates) and that we have great new people aboard to help steer the community. Congratulations and good luck to the board!
Open Knowledge Finland is growing!
Currently, 8 people are employed by Open Knowledge Finland. However, this number will soon decrease slightly as projects are ending. For this year, we have had a number of new people joining us – Emilia Hjelm, John Sperryn, Konsta Happonen. Previously active members like Heidi Laine, Mika Honkanen have received part-time contracts. On average, we have about 4-5 FTE in staff. In terms of finances, we have managed to grow at a good pace – from just under 200k eur in 2014, to about 300k eur in 2015 – and still on the rise, a total of nearly 500 000 eur in total turnover expected in 2016. The funding is short-term, fragmented and diverse – which is both exciting as well as a cause of concern (for longer term planning). Open Knowledge Finland currently has over 350 members – and hosts an Open Knowledge Network of nearly 4000 people in Finland.
MyData 2016 gathered about 700 international people to Helsinki – and accelerated the movement for human-centric personal data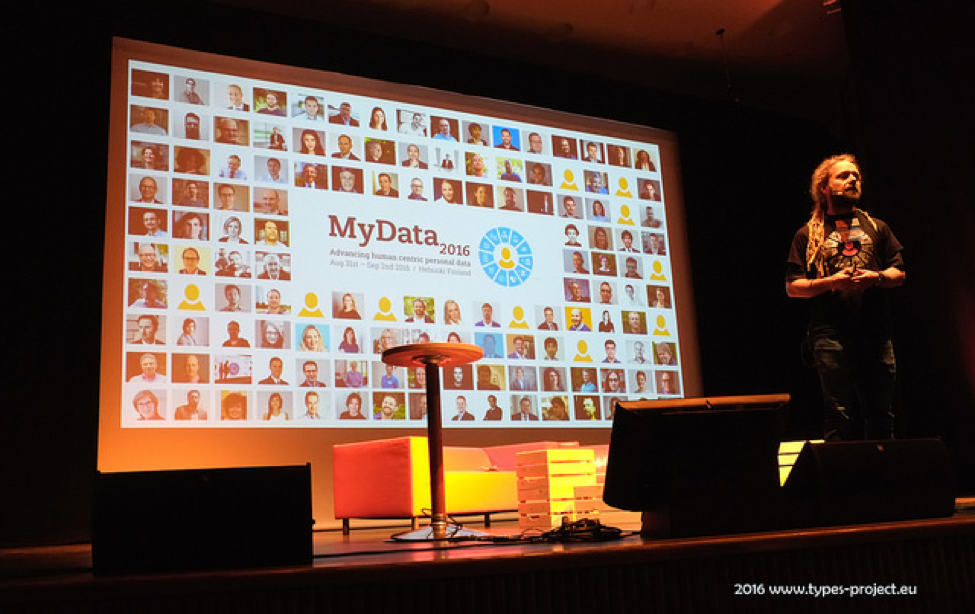 Pic: Chairman and MyData activist & researcher Jogi Poikola at MyData 2016 introduction.
2016 is the year of MyData. Open Knowledge Finland is all about the free flow of information. Open data, open knowledge, open collaboration – and, we believe this also includes free (user-controlled) flow of personal information. The MyData movement encompasses concepts and tools not only to build more transparent societies – but also to develop effective services and create new business in the digital domain. Actions around the MyData conceptual framework represents the BIGGEST concentration of effort for us this year. In particular, Open Knowledge Finland's key actions for the fall of 2016 were geared towards the
MyData 2016 conference
(31 Aug – 2 Sep) and the
Ultrahack MyData hackathon
running in parallel with the conference.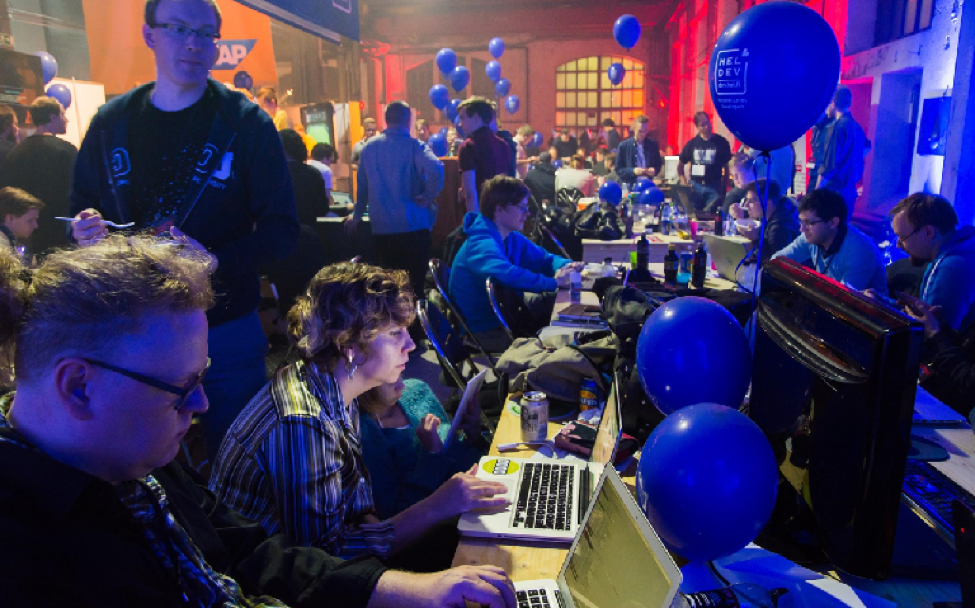 Pic: Ultrahack 2015 – one of the highlights of that year. Intense hacking on smart cities & civic tech in the picture.
We had some 700 visitors in total – over 500 conference visitors, over 100 hackers or hack visitors, over 30 partner organisations involved. Amazingly, we had 140+ speakers, in 40+ sessions. Visitors came from about 30 countries. The feedback has been excellent – a great results for a first-timer conference! Check out the event images on the Flickr pool:
https://www.flickr.com/groups/mydata2016
. Conference video archive is available at
http://goo.gl/gV9r4c
. Please stay tuned to
www.mydata2016.org
and
@mydata2016
on Twitter. More wrap-ups and posts to follow. And yes, MyData 2017 is on the drawing board!
That's not all, folks!
In addition to MyData, many of our 9 working groups have interesting ongoing projects, ranging in size, duration and scope. In a nutshell, here are a few of the active ones: The 3 year EU project "
D-CENT
" (Democracy WG) is wrapping up soon. D-CENT is a Europe-wide project creating privacy-aware tools and applications for direct democracy and economic empowerment. Together with citizens and developers, we are creating a decentralised social networking platform for large-scale collaboration and decision-making. Contact :
Jaakko@okf.fi
Yhtäköyttä
(Democracy WG), "Common knowledge practices in research and decision-making",  is our first project for he Finnish Government's analysis and assessment of research activities (VN TEAS) coordinated by the Prime Minister's Office (VNK). The aim of the project is to find out what kind of tools and methods could be used in government in order to utilize knowledge management and research data better and to improve evidence-based decision making. This project will involve theoretical study, 30+ interviews and 4 experiments in new tools and methods such as data visualization, open impact assessment, real-time document editing, real-time fact-checking. Contact:
raimo.muurinen@okf.fi
Cost-effective utilization of open data and basic registers
: The research project's goal is to better understand and measure the impacts of open data and the use of the basic public registers. As an outcome, we expect policy recommendations and suggestions for new methods, processes or technical changes to help improve cost-efficient publishing of open data and increase the impact of the basic registers. Contact ;
mika.honkanen@okf.fi
Open Citizen Science
:  Citizen science has most notably been used as a method for creating observational data for life science research. Against the backdrop of current technological advancement, we need to create Citizen Science v 2.0 – open, diverse, responsible, dialogic and academically excellent. In terms of outcomes, we envision a set of concrete recommendations for national stakeholders; we willcreate understanding, awareness and discussion about citizen science as a scientific method and a community; and we will catalyze a research agenda for a new kind of open citizen science. Contact:
heidi.laine@okf.fi
Creative Commons Licensing Support: As Creative Commons licenses are the official recommended license for open data in the Finnish governmental sector, awareness and instructions for using them in practice are needed across many sectors of society, including for public open bids, content creation subcontracting, and data purchasing. Contact:  tarmo.toikkanen@okf.fi Other projects…to be updated in the next blog! See also summary of OK Finland projects in a
few slides
.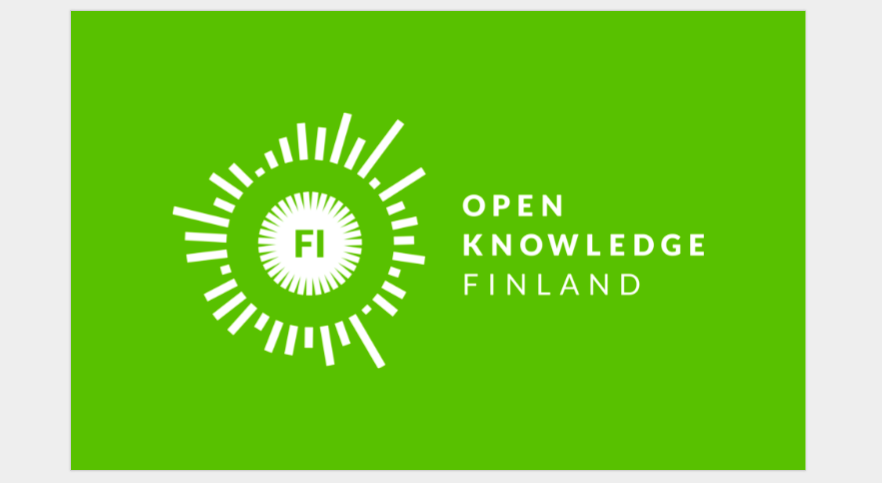 Get in touch!
In October, we will also be having an
extraordinary general meeting
and plan to change our rules to better accommodate for scaling. Stay tuned – more to follow! Want to get in touch? Contact executive director
Teemu Ropponen
 or one of the board members. Follow us on
Twitter
or
Facebook
. The post
The summer is long gone – a brief look at past months at Open Knowledge Finland
appeared first on
Open Knowledge Finland
.