okconguest - September 12, 2013 in Invited Speakers, OKCon, OKCon 2013, Open Knowledge Foundation, UN
This post is written by Mark Cardwell. Together with Anders Pedersen, he will be coordinating the event 'Opening up the United Nations, to be held on Thursday 19 September, 10:00 – 13:00 @ International Environment House 2 as part of the Open Data, Government and Governance track. Please use the form at the bottom of this page to sign up for the event, and please note that this event is not at the main venue of OKCon. 
---
How can we better understand the way governments and the UN spend funds? How do we really measure the impact of, say, poverty reduction programmes? Could relevant financial, procurement and operational data be used for more effective risk management or to identify potential cases of corruption?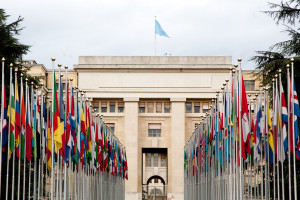 These questions and the work that is currently underway to operate in a more transparent way, using a data-driven, results oriented approach, will be tackled at a special event in conjunction with the
Open Knowledge Foundation
on 19th September as part of OKCon. In this environment of austerity, it has never been more important to demonstrate transparency and accountability. The goal of the event is to show the issues and opportunities in driving towards an open, inclusive way of working. We'll focus on the three following questions:
How to free data from large, complex organizations and legacy reporting systems?
What needs to happen to make this data understandable – and actionable?
What long-term policy and processes need to change to make this part of our thinking?
We'll examine case studies of how to publish meaningful information and how to analyse the implications of opening up organizations. Oluseun Onigbinde from
BudgIT
, will discuss the impact of making Nigerian government data understandable to public and Federico Ramírez will share the experiences from
Fundar
, Mexico cleaning and visualising open data. Milica Begovic from the United Nations Development Programme will lead a conversation on the often controversial process of government contracting, and representatives from UN-Habitat, UNICEF and other agencies will show their work in driving towards an open, accessible culture. Representatives from open government community and open data users across will discuss how data should be released and most importantly, which type of data should be released. Open data users will also be able to share their stories in an informal show-and-tell forum, where individual projects can be displayed. The event is part of the Open Knowledge Conference (OKCon) 2013 organised by the Open Knowledge Foundation in partnership with UNDP, UN-Habitat,
UNOPS
and
UN-OCHA
. As with all events at OKCon, we'll make it participatory and insist on an open and frank exchange of ideas. Attendance for this event is open to everyone registered for OKCon. If you are interested in presenting at our show-and-tell forum,
please get in touch with us.
---
Mark Cardwell is the transparency lead and the head of online communications at the United Nations Development Programme.
Photo credit